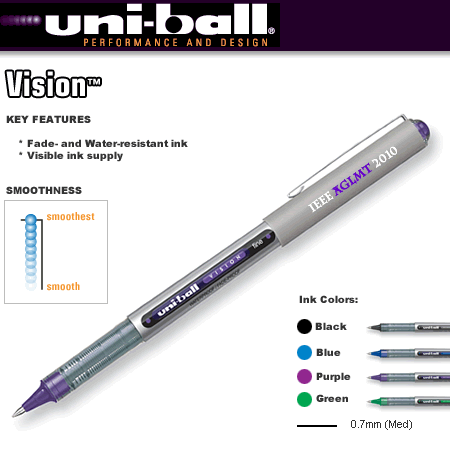 Uni-Ball Vision
Avg. Customer Rating:





The trouble with not being able to see it, is that you may be surprised to find out that it's suddenly gone. Fortunately, the uni-ball Vision gives you a clear view of exactly how much ink you have. You'll also see how the unique uni-Flow ink system delivers smooth, scratch-free writing with a consistent flow of ink to paper - down to the last drop. All you're left with is high tech, high style smoothness. Envision your name on the uni-ball Vision - it's the smooth way to get ahead.



Buy like you're ordering 10,000 every time -- End Quantity Pricing for any quantity!
The best price and service - guaranteed.
Average Customer Review:





1 Reviews
Write an online review and share your thoughts.





a quality pen at a low price, 8/25
Reviewer: Christian Hoffman (Ft. Worth)
It is hard to find such a quality pen at this low of a price. It is also tough to find green or purple ink. This pen offers both. We use and give these out at our greenhouses.
---
Details:
Colors: Black, Blue, Purple and Green.
Assorted Colors? Yes.
Refills: Ink matches Pen Color.
Imprint Area: Side of cap, 90deg from clip. 0.625" H x 1.00" W.
Clip Imprint? NA
Imp. Method: Screen Print. Please Contact PENSRUS.com for details.
Setup Charges? No.
Logo Charges? No Charge.
Std. Production Time: 10 working days
Rush Service? Yes.
Min. Order Quantity: 200
Packaging: Bulk.
Shipping Weight: 2 lbs per 100.